Ladies Chain
Large audio files--be patient
August 25, 1978 Rehearsal mp3 *** February 2, 1979 Rehearsal mp3

9/8/1977, Daily Hampshire Gazette, These Ladies have a Chain of their own..., by Laura Barr
9/28/1977, Amherst Bulletin, Ladies Chain picks up the contradance tempo, by Sarah Fader
4/8/1981, Valley Advocate, Contradancing is Nothing New, by Amy Singer
December 1, 2013 Memorial for Donna Grossman photos by Tom McCurry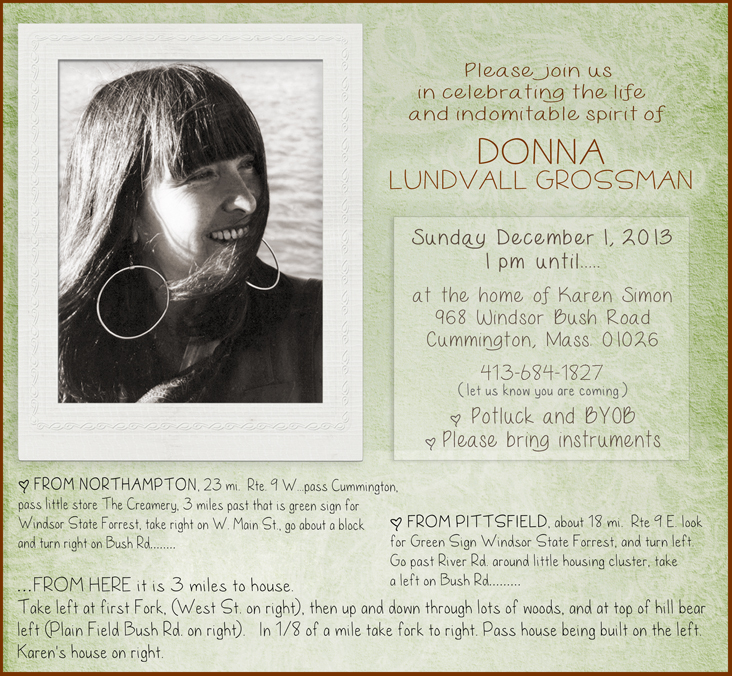 September 28, 2010

Mary Lea in her garden
Brattleboro, VT

September 27, 2010
Karen Simon in her Field
Windsor, MA


September 26, 2010
Heather McLaughlin on clarinet & Tom McCurry's Orchids
Northampton, MA


September 26, 2010

Mary Lea • Heather McLaughlin • Barbara Stack • Karen Simon • Donna Grossman
June 13, 2009, Northampton, photo by Tom McCurry

June 13, 2009, Northampton: Donna Grossman. photo by Tom McCurry.

Barbara and Heather visit Bonnie in Wakefield, RI, July 27, 2007

October, 1980: Northampton: Donna Grossman. Barbara Stack photo.

Donna Grossman weaving

Mary Lea • Bonnie Blair O'Connor • Heather McLaughlin • Barbara Stack • Karen Simon • Donna Grossman
June 1978

June 1978: John Marcy photos (scanned from proof sheet)

Summer, 1977: Cape Breton, Nova Scotia: Heather McLaughlin and Donna Grossman. Barbara Stack photo.

December 8, 1978: Near the beginning there was the Threshold Benefit. Heather's copy.
9/8/1977, Daily Hampshire Gazette, These Ladies have a Chain of their own..., by Laura Barr
Just nine months ago. each woman was making music individually while pursuing her own non-music career; only two of them knew one another.
It was at a contradance sponsored by the Valley Women's Union in Northampton that the seven came together for the first time last February. "The people affiliated with the union wanted an event," recalls Ms. Lea. "They brainstormed and called musicians that they knew."
The seven met, practiced, and then played for the union 's women-only contradance. Subsequently. they were invited to join together again. this time to play at a benefit for Pat Sackrey. an area resident who was going to China as a delegate for the U.S.-China People's Friendship Association.
Members of the group cannot remember exactly when they decided to organize formally as a band. but sometime in between the first two engagements they became an entity.