Robinson Family Photos
Cousins, I'd love to hear from you!
Contact me

1895 circa, Eta and David Robinson from collection of Dan Loeb, Berkeley, CA.
Ita arrived in US 8/7/1895. She was born about 1855, so is estimated at 40 years old here.
Alternatively, it would have been taken in Europe before David's departure in 1892.

undated photo, probably taken in Portland, Maine, from Joseph Chandler collection
If we could ID the girl, we could date the photo.
Irving Robinson wrote Joe Chandler, quoted in Dearest Rachel: "I remember Bubbie Eta being a great romantic as I heard that she read romantic stories when she was in her 90's.
I remember her being a very independent person who refused to move into the Portland Old People's Home because she said that the people there were too old for her.
She was a very a generous person and I once heard her say that the only legacy she was leaving her children was a trunk full of receipts from the various organizations she supported.
The Lubovitch rebbe in Montreal told me that she phoned him when she wanted a halachic question answered."



1912 circa, Portland, Maine: Jake & Rose Nelson Robinson. Anne Thorner Stack collection.
the date on this item may be unreliable and I haven't yet had time to review my process.
Jake and Rose were married on November 7, 1905 in Portland, Maine
I may have assumed it was taken on same day as that of the kids; it may have been a reprint of 1905 photo.


circa 1912 Portland, Maine: Irving & Anne Robinson. Anne Thorner Stack collection.

1906-1910 circa, Portland, Maine, 324 Fore Street: Jake and Ben Robinson (framed version) 600 dpi. John Robinson collection.
Scanned and researched by Adam Mock (Jake's great grandson).
The Crate or How I Learned to Stop Worrying and Love Antique Phonograph Restoration, by Adam Mock: great story of photo and Jake's phonograph

1905 Portland Directory

1910 Portland Directory

1919, Portland Maine: Isadore aka Robbie Robinson (son of Abraham Robinson & Nellie Spegelman). Joe & Marjorie Chandler collection.

June, 1924, probably at Old Orchard Beach, Maine.
Becky Nelson Thorner • Etta Nelson Chase • Rose Nelson Robinson
mystery person
Anna Thorner Glaser (a redhead) • Minnie Marcus Cook
Anne Thorner Stack collection.

circa 1929, Maine: Front L to R: Sylvia Cook, Rose Nelson Robinson, Mystery woman, Becky Nelson Thorner, Minnie Marcus Cook, Mel Thorner.
Rear, L to R: Mystery man, Irving Thorner, Ann Robinson Leman. Anne Thorner Stack collection.

circa 1936 Montreal: Joe Robinson. Anne Thorner Stack collection.

August 30, 1942: On the steps of Anshe Sfard Synagogue, Portland, ME. photo courtesy of Helen Isenman, Portland.

1951 Sand Dunes Picture of Robinson Family at Lake Champlain near Burlington VT. Dan Loeb collection.
Sam and Hymie owned Robinson Woodturning Co which had a factory in Burlington.
Hy Abrahamson ran the factory and Clarence L and Harry R worked as salesmen for the company)
Front Row, L to R: Sam Robinson, Nancy R, Norman R, Dan Loeb with Andy Loeb between his legs, Alan R, Lynette (Lucky) R, Mollie R, Ruth R, Pearl R
Second Half Row: Sadie Silverman, Leah Israel, Esther Abrahamson, Rose Greenberg (?), Bessie Loeb, Roz R
Third Half Row: Anna B Seder (Roz's Mother), Ida Kumin, Alma Kumin, Lou Kumin, Hymie R, Sammy R
Fourth Row: Algie Silverman, Mickey Israel, Louis Abrahamson, Hy Abrahamson, Clarence Loeb, Harry R, Irving Kumin, Robbie R

From left top row: Dave Kates, Hazel Brenneman, David Finkelman, Tela Millman, Jerry & Lois Chase, Dave & Dottie Millman, Joe Robinson, Irving & Esther Robinson
From left middle row: Anne Stairman (daughter of Joseph Nelson), Dick & Jan Chase, son of Hazel Brenneman (name unknown), Etta Chase, Rose Chandler, Anne Robinson Leman, Molly Finkelman, Molly Cook, Rose Robinson?, Sadie & Sam Cook
Front: Irving & Bertha Thorner
circa 1956, Eddie Miroff Bar Mitzvah, Portland. Molly Schwartz Cinamon collection.

1958-60: Forest Hills, NY: Left to Right: Dan, Bessie Robinson Loeb, Andrew, and Stan Loeb. Stanley Robinson Loeb collection

1965 circa: Benjamin Robinson image from The Canadian Jewish Heritage Network

July 17, 1969: The Montral Gazette: Benjamin Robinson obit.

June 9, 1989: The Montreal Gazette: Irving Robinson: The Clean Little Pigs

August 27, 2016: Berkeley: Dan Loeb, seated; Barbara Stack and Carl Loeb.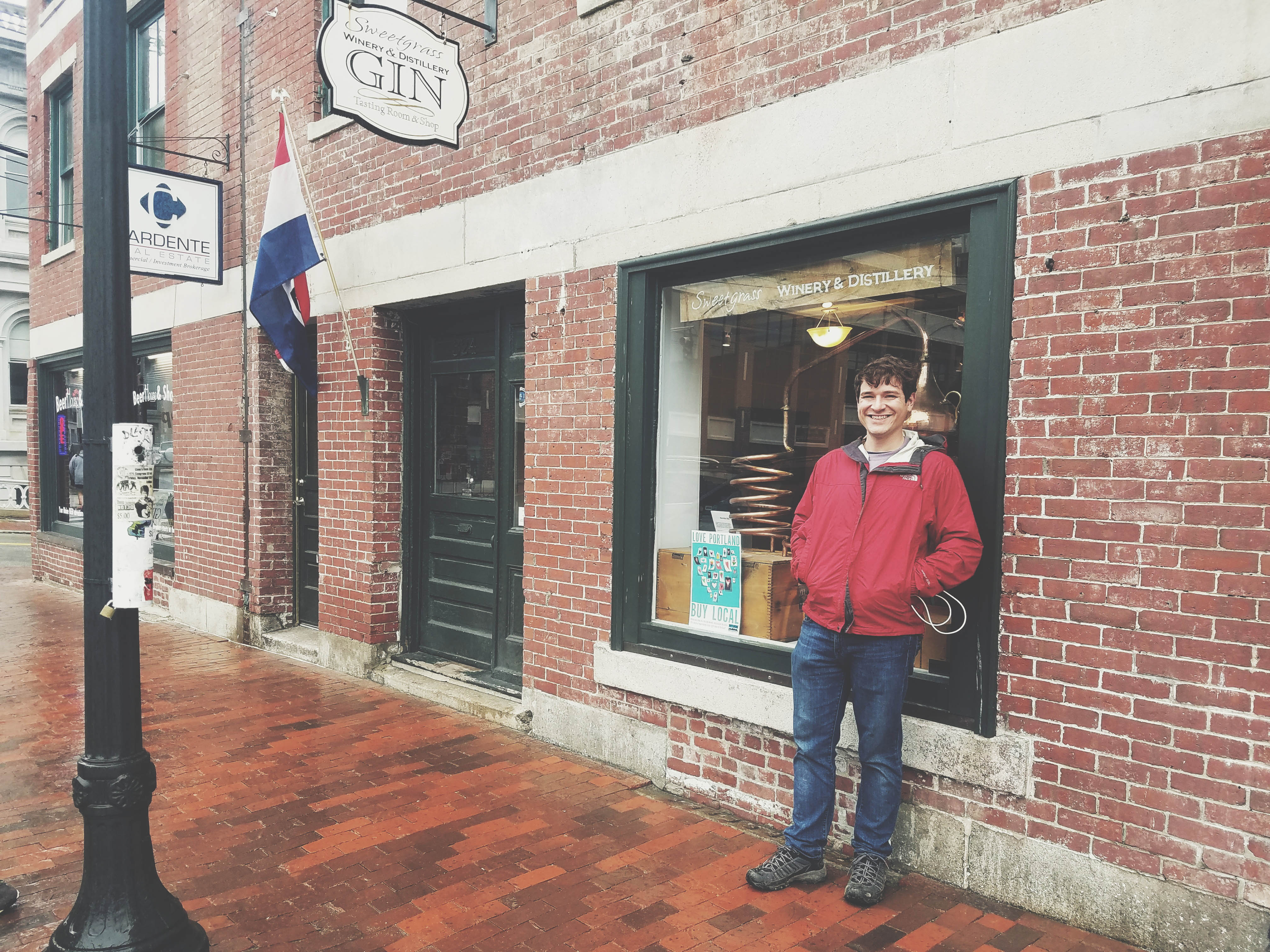 July 23, 2018: Portland, Maine: 324 Fore Street: William Robinson, son of Jonathan J. Robinson, son of Benjamin Robinson,
in front of the former Robinson Bros. Store. Photo by Sydney Warshaw.
© Barbara Toby Stack where not otherwise indicated